On Friday, I wrote about needing to go to the ocean. Luckily, I have an extremely loving husband who sometimes grants my wishes. ;) He, too, needed time away and it was incredibly soul-filling to just be with him. To reconnect, remember, and enjoy being just the two of us... For God is at the deep center of our relationship, and the ocean is but one reminder of how much we are loved, and of how much we love each other....
Then, we ended the weekend by celebrating my dad's birthday. Family. Faith. Laughter. Fun. Food. Excellent.... Again, in random order, are gifts #135-171
135 ~ the cry of seagulls
136 ~ the smell of salty sea air
137 ~ constant wind
138 ~ watching colorful kites flying
139 ~ singing at the top of my lungs
140 ~ windows rolled down
141 ~ holding hands for a walk on the beach
142 ~ salt water taffy
143 ~ crashing of waves
144 ~ sandcastles to mark our spot (we didn't build. but enjoyed.)
145 ~ incredible wine pairings and dinner
146 ~ no alarm clocks
147 ~ looking at available properties ~ dreaming a little!
148 ~ exploring First Landing State Park
149 ~ driving to get our children
150 ~ meeting up with good friends, the Wilkins...
151 ~ hugs from Joe and Max
152 ~ thankful for parents who helped us get away
153 ~ Mass with my mom and dad
154 ~ pizza
155 ~ watching Max eat pizza
156 ~ birthday cake and ice cream ~ celebrating dad's birthday
157 ~ Max's first pool day with Pop Pop (and Joe!)
158 ~ laughing Lucy
159 ~ silly scuba Joe
160 ~ watching Joe in what seems to be his natural habitat....
161 ~ laughter with Rachel and Eric
162 ~ watching goofy dogs Donzi and Cookie romp and play
163 ~ listening to Joe and Lucy singing to Darius Rucker
164 ~ scheming and dreaming with Rae and Eric
165 ~ "house talk" with R & E
166 ~ coming home
167 ~ reading the Sunday paper on the sun porch
168 ~ watering the garden from the rain barrel
169 ~ sleeping in my own bed
170 ~ listening to the ticking (chiming) of my Grammie's newly fixed clock (thanks dad!)
171 ~ love unending
So what are you grateful for? Start counting today, and then link up here: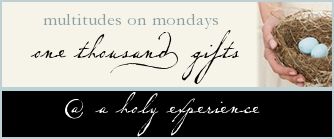 (It's addictive. Truly. And it helps to calm your heart and focus on what is important in this life...)